Business Opportunity
The Advantages
Shuang Hor's unrivalled competitive edge taking the form of the following advantages:
No capital outlay is required.
No need for stockpiling.
Helping others to help you.
Equal opportunity for all.
Limitless abundance for growth and development.
Shuang Hor Business has put in place all the benefits, including an extensive array of exceptional products, the lucrative Bonus & Award Schemes, its singular and powerful System Education, various simple but effective marketing tools for business development, enormous local and overseas markets of limitless potential to tap on, and the back-up of a professional administrative team to help you build your business and scale the pinnacles of success. As long as you are willing to give yourself a chance and make the first stride for a life-transforming journey through Shuang Hor Business, what lies ahead shall be a lifetime of fulfilment with Health, Wealth, and Uncommon Freedom!
Bonus Scheme
Apart from relying on quality products as the intermediary in establishing a successful business, a fair and equitable bonus scheme is the key that motivates distributors to aim for high achievements. The lucrative bonus scheme offered by Shuang Hor Enterprise is built wholly upon fair and equitable principles, allowing all aspiring distributors who commit in building their Shuang Hor Business to enjoy equal opportunities for wealth creation. By putting in the efforts and devoting to it wholeheartedly, you will certainly be able to reap the fruits of great success.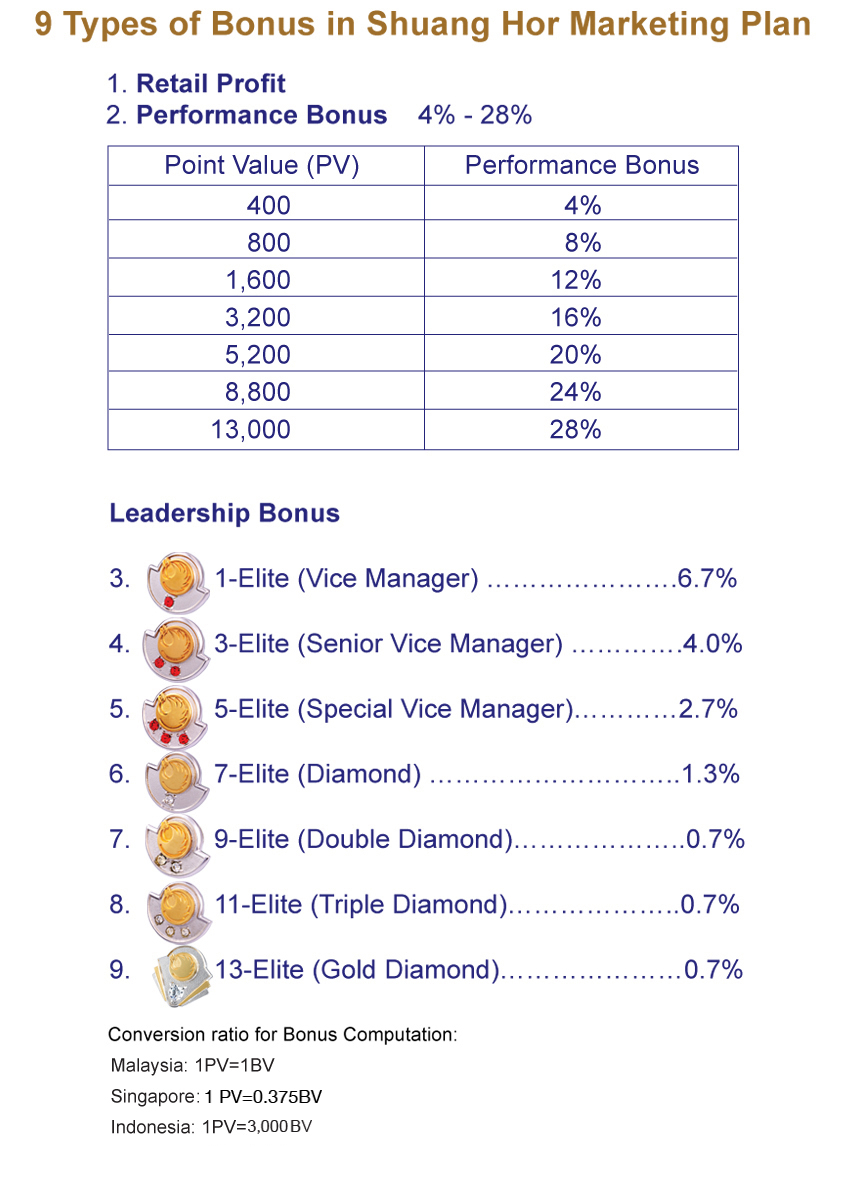 Award Scheme
In addition to the fair and equitable bonus scheme, Shuang Hor also offers three attractive privileges to all distributors, namely Outstanding Distributor Overseas Seminar, Diamond Car Fund, and Diamond Year-end Bonus. These privileges enable all distributors to enjoy additional down-to-earth rewards for their commitment in Shuang Hor Business.
Overseas Seminar: Shuang Hor organizes Overseas Seminars twice a year, through which all eligible distributors are invited to participate in free tours abroad. Over the years, Shuang Hor and its members have left footprints in countless overseas destinations such as China, Japan, Thailand, Italy, France, Switzerland, Australia, South Africa, South Korea, etc.
Diamond Car Fund: When you qualify yourself as a Diamond Distributor, you are entitled to the Diamond Car Fund.
Diamond Year-end Bonus: Shuang Hor allocates the Year-end Bonus every year as a reward to all Diamond Distributors in recognition of their unreserved commitment and contributions to Shuang Hor Business.