ANDY TAN GEE LEONG & TAN MEI LENG
Diamond Couple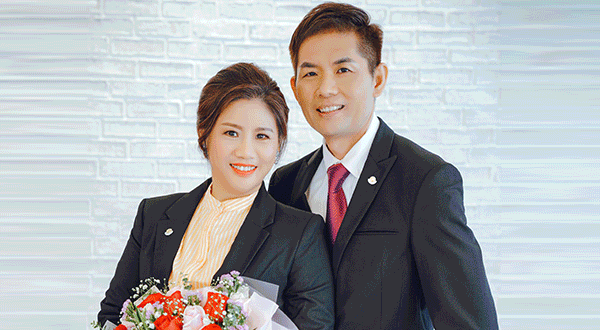 In the world of myriad people, how many people have we passed by in our lives? Diamond couple Andy Tan Gee Leong and Tan Mei Leng met each other in the Shuang Hor business and decided to become each other's lifelong partners. Perhaps this is the destiny of the couple, so that they can work together on the road of Shuang Hor business and become good companion for one another.

Joining Shuang Hor has allowed them to realise the goal of early retirement and enjoy an extraordinary lifestyle with health, money and time freedom.

They confess that there is always a voice in their hearts crying out loud for the couple's name to be engraved on the Diamond Milestone board one day! The Summit Training Camp organised by system leader Mr Ku in 2018 coincidentally gave them a once-in-a-lifetime opportunity, and the launch of the 111 Café Business Plan gave them a hope.

"If you want to make a change, start with yourself! At that time when we set new goals, not only we learned from scratch, but also treated ourselves as newcomers and attended numerous 111 Café Business Plan and system meetings¬¬¬¬ organised by the leaders. These have benefited us greatly."

Diamond couple Andy Tan Gee Leong and Tan Mei Leng achieved their rank of Diamond in December 2020. They did not fall shy from stating that the 111 Café Business Plan was an important key for them to achieve Diamond!

Although 2020 was hit by the global pandemic, they always believe that a crisis may present an opportunity, and that opportunity is always reserved for those who are ready.

Shuang Hor is a platform that offers dreams and opportunities. With loads of hard work and perseverance, you are bound to achieve a successful life with eight perfections!

As long as we strive to pass on truth, goodness and beauty, we will surely be able to pass on a successful life forever!




CHALIS@CHARLES BOINSIN & EMELIANA SIMON LAHINDUN
Diamond Couple



When things don't go your way in life, will you work hard to breakthrough or will you choose to live a substandard life? When faced with setbacks and adversaries, Diamond couple Chalis@Charles Boinsin and Emeliana Simon Lahindun always maintains a positive and persistent attitude which has planted the seed of success in their lives for many years to come.

Prior to joining the Shuang Hor business, Diamond Charles went through a four-year unemployment. In order to make ends meet desperately, they kept trying various direct-selling businesses, but didn't achieve much to enable them to solve their pressing financial problems.

In July 2018, Charles's friend recommended the CEO Café to him. Its outstanding impacts and many testimonies aroused his desire to start a new business again. After some thoughts, he decided to ventured into the Shuang Hor business.

Do your best in everything wholeheartedly and you'll be well rewarded! After 2 years and 5 months the couple joined the Shuang Hor business, they have successfully achieved Diamond status!

As Diamond Emeliana put it, "Shuang Hor has the easiest marketing plan in the market, and the 111 Café Business Plan is not only easy to duplicate, but also easy to run by simply inviting others to drink coffee and hosting coffee parties. "

Diamond Charles said, "The most important thing is to never give up! When you think it's difficult, everything becomes difficult; when you say to yourself 'I will go all out and do my best', then success is just around the corner."

A box of CEO Café may seem simple, but it holds unlimited potential; the Shuang Hor business has allowed Diamond couple Charles and Emeliana to easily cross the toughest moment in their lives with a single box of coffee and live a happy and joyful life ever after!