Solha Binti Husin & Mohd Nabil B Ab Rahman
Gold Diamond Couple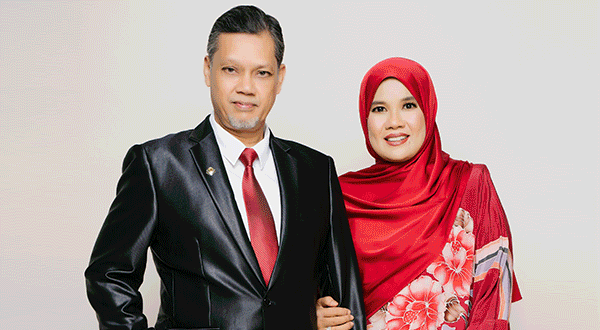 Running a direct sales business is something that has never crossed the minds of Gold Diamond Solha and Mohd Nabil before. So when asked if the Gold Diamond status was the goal they expected to achieve 10 years ago, they quickly answered "No" with a chuckle.

Despite the unexpected achievement of the highest status in this business, they felt immensely satisfied. It is as if they have proven to themselves that the decision they made 10 years ago was a right decision and was blessed by god.

"If I have abandoned the opportunity offered by Shuang Hor 10 years ago, I am almost certain that today would have been living the same kind of life but with increasing hardship, especially in the aspects of health and career."

Although sometimes they felt it was a bit too late to start a new career in their middle ages, this feeling was immediately ushered out from their minds by recalling the traumatic experience of managing their sick child, without proper understanding of health and without adequate finances. It was those bitter memories that serve as a fire that drove them to not give up in this business.

For the sake of future health challenges, they want to always be able to undergo every health crisis in a more prepared manner. They are very blissful that Shuang Hor's business provides a platform that presents the preparation aspects that they wanted (ie. money, time and health knowledge).

"Is it not time freedom our dream? Time to spend without money and health constraints? "

According to Gold Diamond Solha, the recipe for success in Shuang Hor business is when the business activity can be easily duplicated by every member. Therefore the strategy is to continue doing the same activities so that the skills can be easily transferred or duplicated by each and every member. In other words, to stay successful in a direct selling business, we should not have a significant deviation from the regular business activities, even if the highest achievements have already been achieved.

The couple shared three words of encouragement that have always been their mantra throughout the journey of achieving success in Shuang Hor.

1. Kindness begets kindness

2. Health is wealth

3. Ignoring facts will not change the facts




Hashlina Binti Rusdi & Harunarrashid Ishak
Triple Diamond Couple



Life is a challenging journey and no matter what business you choose, there are bound to be difficulties and obstacles. Triple Diamond Hashlina and Harunarrashid believe the most important factor in success is actually yourself. "Whether to act immediately or put things off till a later stage is the key and secret to success."

This reminds Hashlina of the words she heard at MPPJ in October 1995: "A truly successful person should have money, time and health at the same time". It was this statement that made her realise she had been defining success incorrectly.

From that moment, Hashlina decided to load her dreams on Shuang Hor business because it was not only the key to hope, but also the key that opens the door to "money, time and health".

"No matter how much effort we put in before, the return was small. However things are different now and we only need to put in the right amount of effort to enjoy multiple folds of results."

They will always analyse and pay attention to the network that need assistance, so that potential downlines can be promoted. All these plans are already well arranged in their minds, all that is needed is 'action', and practise what the system teaches over and over again until they become proficient.

Triple Diamond couple Hashlina and Harunarrashid believes that as long as they don't get off the Shuang Hor train, they will eventually reach their dream destination and success will eventually belong to everyone. Whether the speed is fast or slow depends on one's own efforts, as long as the train continues to run, it will reach the dream destination one day.

"GO GO GO Diamond ...... Let's meet at the pinnacle of success!"




Gan Yee Sim dan Nyon Huey Kiong
Double Diamond Couple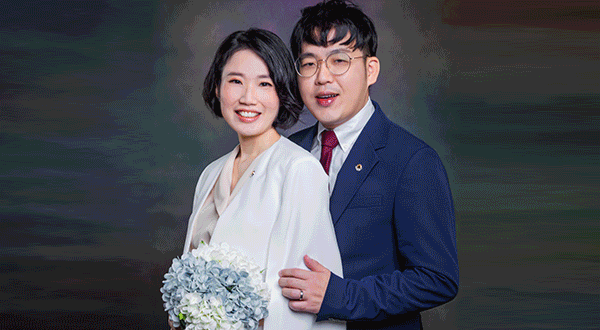 Upon successfully becoming Double Diamond, Gan Yee Sim and Nyon Huey Kiong not only feel their mission doubly strong, but also hope that they can help more kindred people in future so that they can live a carefree life like them.

"We truly feel the beauty of the Shuang Hor business, especially after experiencing the global pandemic in the past two years, which has made us even more determined that we have made the most definite choice in life, and choice is really more important than effort!"

When it comes to building the Shuang Hor business, Double Diamond couple Gan Yee Sim and Nyon Huey Kiong have a practical approach of their own. When a certain downline started to become stagnant, they will continue to explore downwards to find leader partners who are more determined to succeed, with these they can boost the team morale and continue to thrive.

"As long as you remember your original intention, I believe every partner can succeed here!"

It doesn't matter what your background is, at Shuang Hor, everything is ready, all we need is your heart with 'determination to succeed'! The biggest challenge you will face working in Shuang Hor is discouragement from others. However, don't let the muggles get you down. It can be the drive that spurs you on. Never silence yourself for the comfort of others.

"You don't need to be great to start, but you need to have started to be great."

"We often tell our partners that if you can't make it with 111 Café Business Plan, what other business venture could come easier than this?" They sentimentally point out that they could not have turned their lives around in such a short period without the 111 Café Business Plan. Therefore they are willing to repay Shuang Hor's nurturing with their achievements.

"Shuang Hor, we love you!" Shuang Hor becomes life, life becomes Shuang Hor. This is the perfect reflection of their current lives!"